MRG EQUIPMENT
AUTOMATED TECHNOLOGY FOR PRODUCTION EFFICIENCY
PRECISION EQUIPMENT FOR DELIVERY OF QUALITY PRODUCTS
Having the right equipment to do the job is imperative to ensuring MRG can give our clients superb service and quality products. Our innovative tooling and equipment allows us to create cost efficient and quality products. We operate the latest equipment for cutting, stripping, terminating and inline testing of cable assemblies, some of which is listed below.
HDC-5300 polisher allows you to program your Fiber Optic connector polishing processes through an easy-to-use PC-based Windows-like full-color touch screen panel. Hundreds of processes and steps within each process can be stored on a single machine. If the number of connectors loaded into the polishing fixture is less than the default that has been programmed, the automatic pressure adjustment feature allows the operator to enter the actual number of connectors loaded. The required pressure is then automatically recalculated to ensure that the individual connector force remains constant regardless of the number of connectors assumed in the process definition.
The Schaefer Megomat Uno offers top-of-the-line wire processing applications. This fully automated lead maker gives us the technology needed to produce consistent quality at a high rate of productivity. The Megomat Uno allows for strip, termination and both single and double ended cut of leads for versatility in manufacturing top quality products.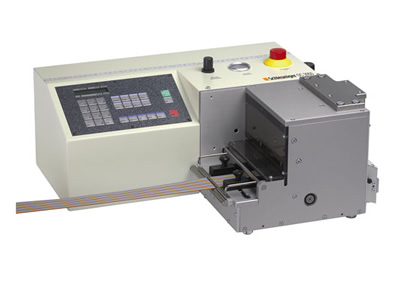 The Schleuniger OC3950 offers an automatic, precise cutting tool for smaller materials such as tubing, expand, cables and wires. The state-of-the-art control panel can be programmed to receive input from auxiliary units such as an electric demand prefeed. The design is ideal for use for materials that vary in size from 3.94" wide (flat) to materials that are .591" in thickness diameter. This unit offers strength paired with versatility for many cutting and wire marking applications.
The Komax Kappa 240 is the power pack option of the Komax automatic wire cut and strip machines. The Kappa 240 uses a RS232 interface for higher communication capabilities. Features include a pneumatic cutting head that can handle larger cross sections, encoder measurement system for accurate length measurement, identical V-blades and a swiveling stripping head that is programmable. The system offers high efficiency and precision for top performance.
Schleuniger Crimp Center 36S
Fast set up times and high end precision crimping are all components of the Schlueniger Crimp Center 36S. With six processing stations, this fully automatic crimping machine provides an innovative control system that offers accelerated production rates and versatile configuration options. The intuitive user interface is designed to reduce user errors, increasing productivity and quality.
SOME OF THE INDUSTRIES WE SERVE
Precision quality assemblies are now part of almost every industry. We are continually adding to the list of industries we serve. Below are just some of the many industries that utilize our electro-mechanical and cable assemblies in their equipment.
NETWORKING & COMMUNICATIONS
COMPARE THE NUMBERS
We encourage you to compare us against our competitors